Improve the way your staff interacts with your customers! At Executive Business Services, we take your employees through a vigorous and engaging customer care training program that readies them for the ins and outs of telephone and email etiquette. Polish your staff's soft skills and prepare them for a host of customer service scenarios including conflict resolution and de-escalation techniques.
Our in house training is instructor led and participant driven with high energy and hands on exercises. We take your team members through scenarios with role playing and question answer sessions allowing them to learn new and better techniques to groom your customers. Our training modules include but are not limited to telephone coaching, email etiquette and soft skills development leaving your customers speechless and returning for business.We offer both half day and full day training options based on your company's needs.
Our Training focuses on face to face, telephonic and email interaction with customers:
Our Services Include:
Telephone Courtesy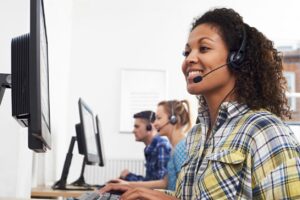 Give your staff the tools they need for friendly, effective telecommunication! We train your staff on proper phone etiquette to help transform the way customers interact with your business. With Executive Business Services, you can successfully convert upset and frustrated phone clients into satisfied, returning customers!
Our Telephone Etiquette Training program will help your employees establish and master the strategies which will improve the image of your company.
---
Email Etiquette

There's a massive need for efficient written communication within the workplace for both internal and external customers.
Respond to customers better than ever before with advanced email etiquette training. With special retraining from our customer care specialists, you and your team can learn how to master critical areas of non-verbal, written communication customer service like email, chat, and more.
We truly believe your team will have fun and be encouraged while we offer tailored learning experiences. We also believe excellent corporate training establishes loyalty and enhances your reputation as a business professional.
Our email etiquette training is interactive. Participants get instant feedback as they learn to think strategically about email response, which includes how efficient written communication, as well as their writing style, impacts customer perception and service outcome.
---
Inter Personal Development

Fine-tune your team's communication and decision making skills with specialized training programs designed to help each member deepen their understanding of customers needs and desires. Our customer care experts teach your employees to "read" and recognize customer body language to help you increase customer retention.
Your team will learn life-long skills to:
Change the way you do customer service
Make lasting impressions
Transform the experience of every patron
We look forward to helping you create the Ultimate Customer Service Experience!
Call (803)518-5761 to speak to a customer service expert today!